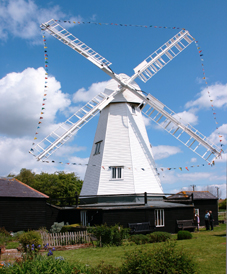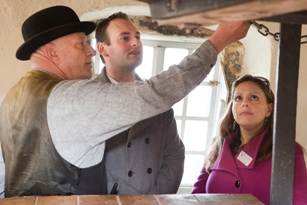 Mill photographs © P Hicks, Jim Woodward-Nutt & Alan Gifford
National Mills Weekend 2017
Saturday 13th and Sunday 14th May 2017
Welcome to the National Mills website.
CLICK HERE to search for Windmills and Watermills you can visit in your area now, or later, over the 2017 National Mills Weekend!
National Mills Weekend is the annual festival of our milling heritage and provides you with a fantastic opportunity to visit mills, many of which are not usually open to the public.
In 2017 it will take place on the 13th and 14th May, and we hope even more mills than in previous years will open their
doors and welcome visitors. Until the advent of the steam engine, wind and watermills provided the only source of power for many different processes - from making flour, paper, cloth to hammering metal and extracting oils. You
can explore mills that produced, or still produce these products, some restored to working order, some derelict, some still working commercially.

Engineers and Engineering
In 2014 & 2015 we celebrated Mills in Art. In 2016 the theme was Vintage Power. The 2017 theme will be Engineers and Engineering - a way of celebrating the engineers and millwrights who built mills and their machinery and a theme which offers potential linkages with local families or firms that could help with promoting your event.

Search for mills open in your area:
To find the mills open in your area, search for your county in our Windmills and Watermills pages. Given the number of mills open, we have divided the mills by their type - Windmills or Watermills.
We are grateful to the mill owners for opening their mills to the public and for providing us with information on their opening hours.
The SPAB Mills Section, who organises this annual event, is not responsible for the content of external websites. We try to ensure that all information provided is correct, but we are reliant on mill owners to keep us updated of changes to their opening dates and hours.