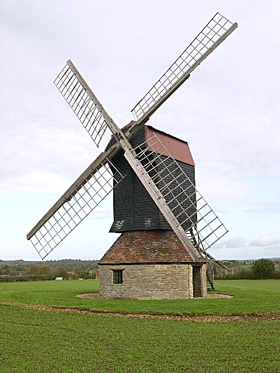 Photograph © Colin Mitchell, under this Creative Commons Licence
Stevington Windmill
Location
Grid reference: SP 992 528
OS sheet: 153
About 6 miles north west of Bedford, 150 yds south of the Stevington to Bromham road.
Fully restored post mill built in 18th century, with a later roundhouse. Last worked commercially in 1936.
Possible Opening times 2017
Monday 2 - 4pm
Tuesday to Friday 10 - 5pm
Saturday 10 - 4pm
Sunday may be by appointment if Seb available.
National Mills Weekend opening times 2017
Saturday and Sunday, 11.00-15.00. by appointment only
Enquiries
Please contact Mr Seb Blore-Rimmer or Andy Pidgen
01234 718044

to arrange visits to the Mill. Seb has a set of keys.

Contact
Tel: 01234 825469 or Mobile: 07785 273766
Email