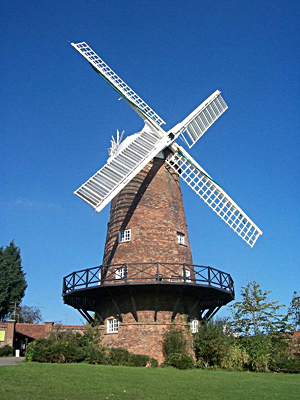 Photograph © Neil Everitt
Green's Windmill, Sneinton
Location
Grid reference: SK 586 398
OS sheet: 129
Postcode: NG2 4QB
1 mile east of the centre of Nottingham, off A612 to Southwell, in Windmill Lane, signposted.
6-storey tower mill built in 1807, once owned by George Green, the mathematical physicist. Restored in 1986. The mill works when conditions allow, producing 6 types of organic wholemeal and white flour on 2 pairs of stones.
We now have a set of electrically driven millstones and a Ruston Hornsby 2XHR Oil engine with a generator.
If there is no wind, this can be run instead.
Hands-on science centre.
Opening times 2017
Wednesday to Sunday & some bank holidays, 10.00-16.00.
See web site for further information.
Parties by appointment.

National Mills Weekend opening times 2017
Saturday and Sunday, 10.00-16.00.
South Notts Amateur Radio Club will be on the air with "Mills on the Air".
Contact
Tel. 0115 915 6878.