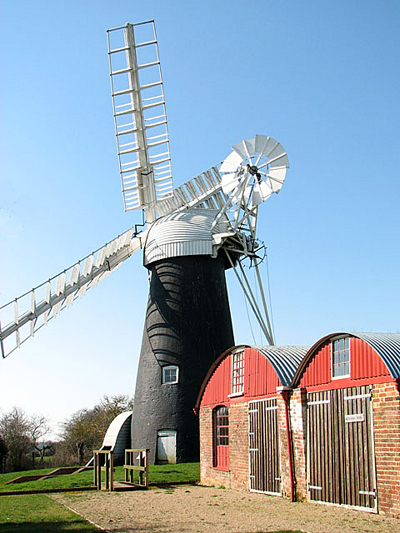 Photograph © Evelyn Simak, under this Creative Commons licence
Polkey's and Cadge's Mills
Location
Grid reference: TG 446 036
Postcode: NR13 3UB
Leave A146 at Hales on Ferry Road to Reedham.
There is no vehicular access to the site; access is by boat or the Wherryman's Way riverside walk. which takes approximately 45 minutes.
To access the footpath from Reedham turn off Mill Hill, pass the Ship Inn, by the Primary School onto Holly Farm Road and follow the Wherryman's Way signs..
Two drainage mills out of an original cluster of three situated close to Seven Mile House:
Polkey's Mill (in photograph). Built sometime prior to 1880 and now fully restored. May originally have been an octagonal wooden smock type mill, as second-hand smock mill beams have been found reused in the construction of the first floor. Now brick, but the old cap retained. The mill drove a scoop-wheel (a paddle wheel in a brick channel) which lifted the water from the marshes through a hinged gate into the river.
Cadge's Mill. Minus sails. Built around 1880 and last worked in 1941.
Site also includes Reedham Marsh Steam Engine House (in picture) and Seven Mile Diesel Engine shed.
Opening times 2017
The mill is visible at all times from the river and the public footpath.
National Mills Weekend opening times 2017
Saturday 13 May - Open 12-4pm. Polkey's Mill will be working, weather permitting and the diesel engines running. The Reedham steam engine house will also be open. There will be guided tours of Polkey's Mill. Donations welcome.
We are looking for volunteers to train to work the diesel engines. We are hoping to hold a training event on the Saturday. Anyone interested in volunteering and attending the training day please call 0344 800 8020 or email information@norfolk.gov.uk
Contact
Norfolk Windmills Trust, tel. 01362 869394.