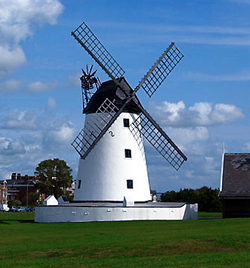 Photograph © Simon Povey
Lytham Windmill
Location
Grid reference: SD 370 270
OS sheet: 102
Postcode: FY8 5LD
On Lytham Green, 2 minutes from town centre, off A584 Preston to Lytham road.
A 4-storey windmill built in 1805, which worked until a serious fire in 1919. Rebuilt in 1921, now houses a permanent exhibition of the history of the mill and of bread making. Some internal machinery remains.
Souvenirs & tourist information.
Opening times 2017
Easter: Wednesday to Sunday; Weekends and Bank Holidays only until June. June to September, Wednesday to Sunday plus Bank Holidays. Also open for special events (see web site). Closed Mondays & Tuesdays all year. 10.30-13.00 & 14.00 - 16.30 each day.
National Mills Weekend opening times 2017
Saturday 13th May and Sunday 14th May, 10.30-13.00 & 14.00 - 16.30.
Contact
Tel. 01253 794879 (mill: seasonal only), or tel. 01253 730787 (Heritage Group).