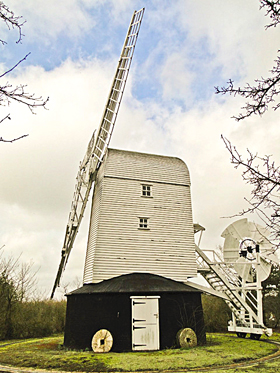 Photograph © Adrian S Pye, under this Creative Commons Licence.
Holton Windmill
Location
Grid reference: TM 402 774
OS sheet: 156
Access via a footpath from the gate of Mill House, on B1123, Halesworth to Southwold road, about 1 mile east of Halesworth.
An 18th century post mill with a tarred brick roundhouse. Restored in the 1960s. Most of the internal machinery has been removed. New sails were fitted in 1991, and it still turns to the wind.
Opening times
Late spring & August bank holidays, 10.00-18.00. At other times by appointment with Mrs Nichols (see below).
National Mills Weekend opening times
By appointment only with Mrs Nichols.
Contact
Mark Barnard, Suffolk County Council, tel. 01473 264755.
Parties: Mrs J. Nichols, tel. 01896 872367.
Web site
http://www.suffolkmills.org.uk/windmills/holton.html