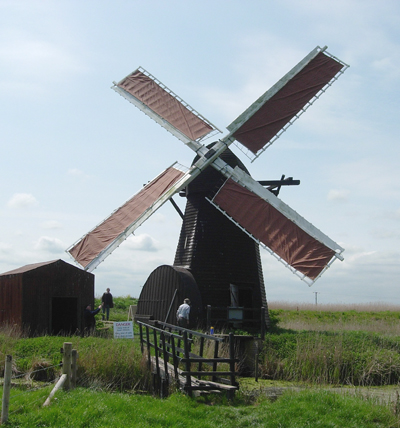 Photograph © Bob Paterson
Herringfleet Windpump (Walker's Mill)
Location
Grid reference: TM 465 977
OS sheet: 134
About 5 miles north west of Lowestoft. Access by footpath only from B1074 between St Olaves and Somerleyton (about half mile). Small car park beside B1074.
A smock drainage mill, built in the 1820s and worked by marshmen until the 1950s. The last pumping mill of its type, with cloth-spread sails and a cap turned by tailpole and winch. Water is lifted from the dyke by the external scoopwheel. The mill pumps on open days. Unspoilt marshland setting. 1950s diesel pump adjacent.
Opening times
For open days in 2016 contact Mark Barnard on
01473 264755 or by email.
National Mills Weekend opening times 2016
Not open, due to failure of one sail stock.
Contact
Mark Barnard, Suffolk County Council, tel. 01473 264755.
Web site
http://www.suffolkmills.org.uk/windmills/herringfleet.html