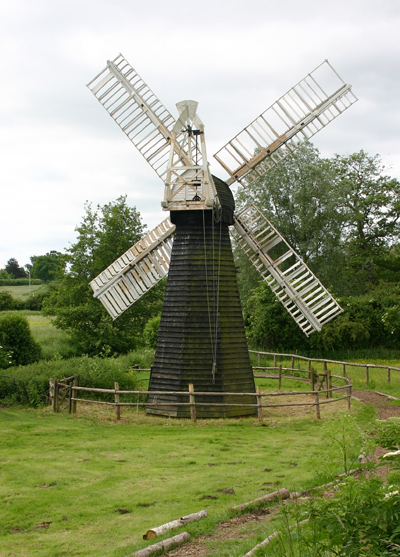 Photograph © Jim Woodward-Nutt
Eastbridge Windpump, Museum of East Anglian Life, Stowmarket
Location
Grid reference: TM 045 581
OS sheet: 155
Postcode: IP14 1DE
Entrance to the Museum is in the centre of Stowmarket, opposite Asda, signposted from A14.
Built in the mid-19th century, this was one of four smock windpumps, which drained Minsmere Level, near Leiston. It collapsed in 1977 and was rescued by Suffolk Mills Group volunteers. It has patent sails with a 44-ft span and a 3-shaft pump. A 70-acre museum site with displays of domestic life, agriculture and industry. Special events. Café and gift shop.
Opening times 2017
20th March-1st week in November, Tuesday-Saturday & Bank Holidays 10.00-16.30, Sundays 11.00-16.30
National Mills Weekend opening times 2017
Saturday 10.00-16.30, Sunday 11.00-16.30.
Contact
Museum of East Anglian Life, tel. 01449 612229.