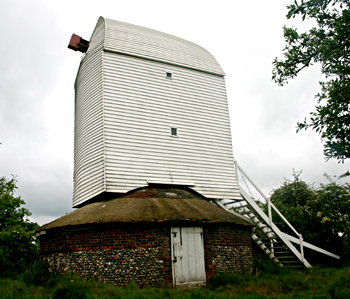 Photograph © Jim Woodward-Nutt
Drinkstone Windmill
Location
Grid reference: TL 965 623
OS sheet: 155
Postcode: IP30 9SP
Between Woolpit and Drinkstone, off A14 between Bury St Edmunds and Stowmarket.
An ancient post mill, dated 1689, but probably much older, which, unusually, turned clockwise. Now listed Grade 1 because of the amount of 16th century timbers surviving. Buck restored in 2005-7 with an English Heritage grant. There is also a smock mill, which dates from around 1800 and was built on top of an earlier horse mill. The smock mill sails were removed when it was converted to engine power around 1900. A remarkable site, containing milling technologies from the 17th to the 20th century.
Opening times
Telephone for information.
National Mills Weekend opening times
Telephone for information.
Contact|
Christopher Rowe, tel. 07843 074700.