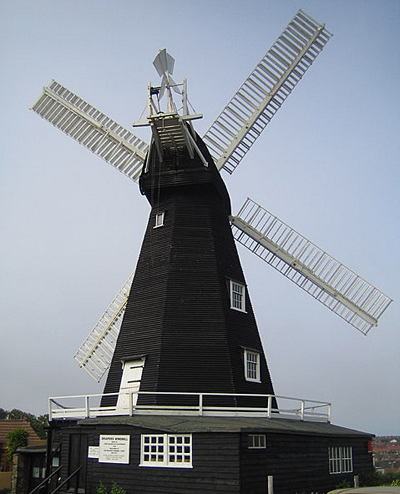 Photograph © Nigel Cox, under this Creative Commons Licence
Drapers Windmill, Margate
Location
Grid reference: TR 362 700
OS sheet: 179
Postcode: CT9 2SP
In St Peter's footpath, off College Road, on S edge of town.
A black smock mill built in 1845 by John Holman, and last worked by wind in the early 1930s. Restored to working order by the Drapers Windmill Trust. A Crossley gas engine runs the mill on days when there is little or no wind. Flour milled for demonstration only. Owned by Kent County Council. Souvenir shop & small museum.
Opening times 2017
Easter Sunday, National Mills Weekend and June-August, Sundays 14.00-16.00. Also Saturdays in August. Parties at other times by appointment. Also Heritage weekend 9th & 10th September.
National Mills Weekend opening times 2017
Saturday 13th May & Sunday 14th May, 14.00-16.00.On the Saturday, local historian Robin Colyer, currently President of the Drapers Windmill Trust, will lead a walk, starting from the Droit House Visitor Information Centre at 2pm, up through the Old Town, arriving at the Mill at about 3.45pm.
Robin will give an explanation of the restoration work in progress and a look around the windmill.
Contacts
For enquiries or admission at other times
Steve Villette, stevillette@tesco.net
Tel: 07985 147563
Facebook
Drapers Windmill